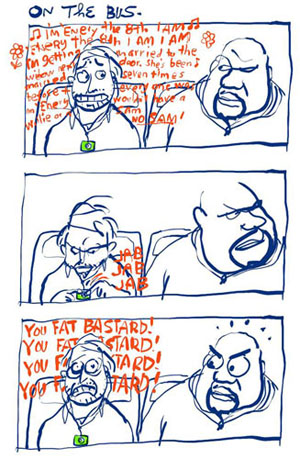 CrackskullBob's blog is nothing short of brilliant.
Bookmark now!
Comments are closed.
Comments for this entry have been closed.
You are reading
On The Bus
which was posted on Wednesday, May 9th, 2007 at 4:37 pm by Barry's Imaginary Publisher. This entry is filed under
Comics
,
Visual Arts
.
Previously:
For Ian And His Next Two Hitchhikers
Next entry:
Rotterdam '79
A note on comment Netiquette: KUR appreciates and encourages any comments you add to this entry, but cannot be held responsible for its content. We will not tolerate any comment that constitutes a vile, personal, gratuitous attack against any other participant. Because life as we know it is short, KUR also expects your comment to be at least slightly on topic. KUR reserves the right to delete any comments that do not meet the above criteria, and will not hesitate to ban any commenter who consistently proves him or herself to willfully ignore the above rules.