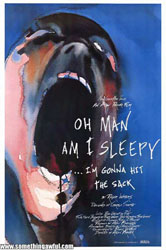 What happens when you strip away a movie's title and replace it with a literal description of what its movie poster looks like?
Comments are closed.
Comments for this entry have been closed.
You are reading
Photoshopping The Wall
which was posted on Tuesday, October 26th, 2004 at 10:51 am by Barry's Imaginary Publisher. This entry is filed under
Amusing
,
Pop Cult
.
Previously:
Exit Zappa Patio
Next entry:
Peel's Final Session
A note on comment Netiquette: KUR appreciates and encourages any comments you add to this entry, but cannot be held responsible for its content. We will not tolerate any comment that constitutes a vile, personal, gratuitous attack against any other participant. Because life as we know it is short, KUR also expects your comment to be at least slightly on topic. KUR reserves the right to delete any comments that do not meet the above criteria, and will not hesitate to ban any commenter who consistently proves him or herself to willfully ignore the above rules.