Well, apparently today is Zappa-news day. A new DVD, hot off the press at Barfko Swill: FZ: The Torture Never Stops. As per the blurb:
$21.98
Halloween, New York City, 1981 – Live at The Palladium
edited, performed & music composed & conducted by FZ
with Ray White, Steve Vai, Bobby Martin, Tommy Mars,Ed Mann, Scott Thunes, Chad Wackerman
2 hours with xtras – ratta tat too!
DVD 9 Dual Layer, NTSC, American English, Dolby Digital 2.0
This appears to be a fully captured version of the Halloween '81 show, perhaps most famous for this rendition of "Stevie's Spanking", as previously featured in the Dub Room Special DVD. (See Also)
Visuals? Yup: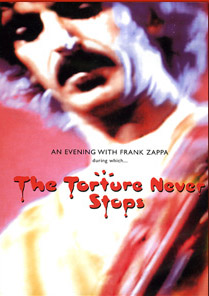 Have to admit I for one didn't see that one coming. Whatever happened to frost on pumpkins and such?
Update: