Quick! Name one artist that deserves a book about his last tour – a tour that ended prematurely? Andrew Greenaway, aka The Idiot, did just that with "Zappa The Hard Way", a book focused solely on FZ's ill-fated 1988 tour.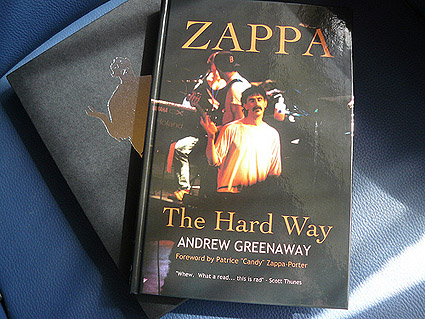 I pre-ordered the book almost instantly, naturally because I'm quite fond of the lusciously arranged live music this tour offers, but also in hopes of finding out more as to why it had to end the way it did: was it all Scott Thunes' doing? Really?
Andrew's book delivers fascinating insights on both counts. It takes us on a rollercoaster ride, starting with the 1987 rehearsals, through the American leg of the tour and onward to Europe where, as they say, things got really ugly. We get first-hand accounts of key concerts from the likes of Dr Dot, Ian Stonehouse, Al Stone (first ever to post a comment on KUR!), Morgan Ågren, and Andrew himself – replete with musical details, secret words, morphing playlists and tunes, never-before published photos, and more.
Throughout, the book features fly-on-the-wall accounts by many of the musicians involved such as Ike Willis, Mike Keneally, Ed Mann, and most notably bassist and Clonemeister, Scott Thunes.
Over the years, the general perception has been that it was Thunes' impossibly rude character and bullying tactics which made the other bandmembers turn against him. Even though to an extent, the book paints a similar picture, it is fascinating to finally read what Thunes himself has to say of the whole affair. As with most things, there are a bit more shades of grey to add to the black and white.
In closing, the book has a detailed look at the subsequent (official) releases that sprang from the tour, follows up on what the bandmembers have been up to since then, and on top of that there's an exhaustive list of dates and set-lists, as well as a brief explanation of some of the more mystifying references in the lyrics — all of which makes for a work of reference well worth having.
In short: I've enjoyed this book immensely. Because of the subject matter obviously, but also because of Andrew's contagious enthusiasm and dry wit, from first page to last.
If all this has whetted your appetite, the book is now available to purchase from Wymer Publishing. For further information you may also want to read this interview I made with "The Author" back in July.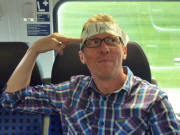 On a final note, Andrew Greenaway will be hosting a book promo next Saturday November 6 at The Barfly Club (49 Chalk Farm Road, London, UK), conveniently concurrent with the Zappa at The Roundhouse event.
There will be a 'Broadway The Hard Way tour' quiz, with the winner receiving a signed copy of the book. In keeping with the '88 tour events where the band had a raffle in Spain, they will be doing the same. However unlike their raffle there will be no prostitutes to win, just copies of the book, signed by Andrew and '88 band member Mike Keneally. For more info, check this page on Facebook.