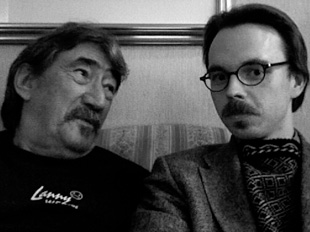 An exceptional interview with Jimmy Carl Black by Calvin Krogh recorded at the Grand Café in Oslo in January, 2007, as well as a second interview in another hotel in Oslo later that August – and broadcast on Krogh's new website. Now you can both play the interviews on site or download the edited sections (12 in total).
On the eve of his 69th Birthday (February 1st), having just been diagnosed with leukemia, Black was extremely open and vivid with his reminiscences. For instance, we learn how Black first becomes acquainted with Jon Larsen, his opinion of Zappa cover bands, Zappa Plays Zappa, playing with Captain Beefheart, Zappanale, Mike Keneally, and, of course, the source of his bitterness towards the ZFT:
JCB: And you know, I appreciated that out of Frank. I… to tell you the truth, man, I always loved Frank Zappa, man. Even with the lawsuits and all the fucking trouble and with all the shit and all that, it doesn't even fucking matter, man. I still tried to get hold of him before he… you know, when I was getting ready to move over to Europe. 1992. I called Motorhead, and I said "Motor, would you do me a favour. Would you call Frank, or call Gail, and find out if it's at all possible that I can call Frank." I'd like to… you know, wish him good luck with his problems, and, you know. Basically, what it would have been at that time, was just "Hey, man. It's been a pleasure knowing you. You taught me a lot." And he did, man! I learned a lot of different things about music that I didn't know.

CK: Hm… But what happened?

JCB: No… she said no. It's one of the reasons why I don't want to have anything to do with her. And the kids… the kids only know one side of the story. They don't know our side of the story. You know, they only know her side… what she says. How bad we are. What could we have possibly done to them? We didn't take any money from them! We didn't steal anything from them! What could we possibly do to them? Say things? Say the truth? You mean you're not allowed to say the truth? Fuck you, man! I will say the truth! I'll tell you what happened! I mean, I'll tell you the way I saw it happen! The way it happened to me.
These interviews are a rich source of oral history for any Mothers fan, in general, and Jimmy Carl Black in particular. A must listen.
Interviews are also available in transcribed text.