Ever since Last.fm decided to join the dark side, I've been on the lookout for another music-streaming service. Enter Spotify: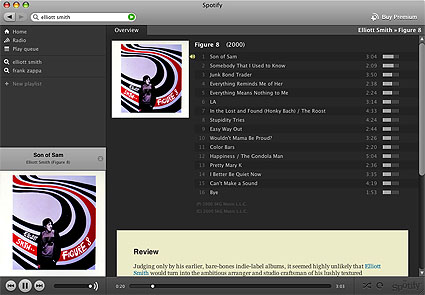 Register (free), download/install some software, and you're good to go. Search for artists, by genre or decade and you'll get instant results paired with related music. Click a track and it will start playing — instantly.
Not accessible outside Sweden, Norway, Finland, the UK, France and Spain for now, but some smart people figured out a way around that. No Frank Zappa to be found, though I did stumble upon an entire Ensemble Modern (Plays Frank Zappa) album, as well as the complete Classic Interviews.
Awesomeness all around! So much so that, having only played around with it for half an hour, I'm starting to wonder where the catch is…