Japanese Versions of Ryko's 1995 (and later) CDs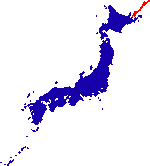 In April and May 1995, Ryko released most of Zappa's catalogue in one big line of CDs, known to Zappa fans as the 1995 CDs. You can read about them in general in Ryko's "Hot Poop" press release, and additionally on the individual pages for each album, accessible from the Vinyl vs CDs index. They all have catalogue numbers starting at RCD 10501 (Freak Out!), with a one-per-disc increment.
The Japanese version of the '95 line is a bit different. The audio part is the same (except for Strictly Commercial, which has other tracks), but the packaging is enhanced, with an obi
(wrap-around paper-strip with Japanese print - like the American/European 1995 CDs all had a paper strip with English print - that is used in Japan instead of printing a Japanese cover) and an extra booklet accompanying each disc. The booklet contains transcriptions of all song lyrics and all spoken parts on the album, plus Japanese liner notes. (The extra booklet probably necessitates extra-thick jewel cases, as is not uncommon in Japan.) They are licensed to the VideoArtsMusic company, who is responsible for the Japanese packaging, and they have the Ryko RCD catalogue number on the discs (because it's the same discs) and a VideoArtsMusic catalogue number in the VACK 5100 series (with some exceptions) on the obi and booklet. (For some reason, the VACK numbers are not at all in the same order as the RCD numbers.)
1998 (Or Earlier)
In 1998 (or earlier), the Japanese line was, for some reason, given new VACK numbers: mostly in the 5200 series. Though 200 Motels got 5380/1, and Just Another Band from LA, The Lost Episodes, Have I Offended Someone?, Strictly Genteel and Mystery Disc were not renumbered.
Informants
Yoji Miyazaki
Dr. István Fekete
Mikael Agardsson
Footnote
According to my sources (Isamu Shimizu and Mikael Agardsson), the albums below were issued on vinyl in Japan.
Freak Out! (Verve SMV-9045/46)
Absolutely Free (Verve MV 1120)
We're Only In It for the Money (Verve SMV-1115)
Uncle Meat (Reprise SJET 8151-2)
Weasels Ripped My Flesh (Reprise P-8003R)
Chunga's Revenge (Reprise P-8045R)
Fillmore East, June 1971 (Reprise P-8151R)
Just Another Band from LA (Reprise P-8245R)
Waka/Jawaka (Reprise P-8277R)
The Grand Wazoo (Reprise P-8306R)
Over-Nite Sensation (DiscReet P-8380D)
Apostrophe (') (DiscReet P-8467D)
Roxy & Elsewhere (DiscReet P-5174D)
One Size Fits All (DiscReet P-10045D)
Bongo Fury (DiscReet P-10093D)

Zoot Allures (Warner Brothers P-10266W)
Zappa in New York (DiscReet P-6339-40W)
Studio Tan (DiscReet P-10612D)
Sheik Yerbouti (CBS/Sony 40AP 1357-8)
Joe's Garage Act I (CBS/Sony 24AP 1691)
Joe's Garage Acts II & III (CBS/Sony 40AP 1745-6)
Tinsel-Town Rebellion (CBS/Sony 40AP 2082-3)
You Are What You Is (CBS/Sony 40AP 2217-8)
Shut Up & Play Yer Guitar (CBS/Sony 60AP 2268-70)
Ship Arriving Too Late to Save a Drowning Witch (CBS/Sony 25AP 2362)
The Man from Utopia (CBS/Sony 25AP 2642)
Them Or Us (EMI EMS-67176-77)
Läther (VAJK 0001/5)
Isamu Shimizu has pictures of many of these on his World's Greatest Sinner's Homepage. Freak Out!, Absolutely Free and We're Only In It for the Money had unique Japanese covers. Freak Out! copies complete with original obi were worth at least 100,000 yen in Japan in the late '90s.