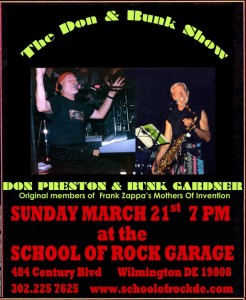 This just in via Andre Cholmondeley:
The Don and Bunk Show…on tour!!

THIS SUNDAY – for those of you in the Wilmington DE, Philly, Baltimore area — Don't miss an amazing and rare show with the two and only DON PRESTON & BUNK GARDNER from the Mothers Of Invention…

These guys have been playing jazz, rock, and experimental music for around 50 years! They know what they are doing!! Do not try this at home — instead – catch their shows….. I've had the pleasure of touring and recording with these gentlemen, and there is…simply nothing like it.

The tour opens at SCHOOL OF ROCK in Wilmington DE, General Admission only $10.

Other shows…
The Don & Bunk Show East Coast Tour
Mar 21 The Garage-Willmington, MD
Mar 24 Bearsville theater Woodstock NY
Mar 25 Rongovian Trumansburg, NY
Mar 26 The Magic Room Boston, MA
Mar 27, Toads Place New Haven, CT
Mar 31, The Hi Hat Providence, RI
Apr 1, Sullivan Hall, NYC

BE THERE. BE SOMEWHERE. JUST BE.

Check out previews of Bunk Gardner's 'It's All Bunk!' as well as Don Preston's 'Retrospective', 'Vile Foamy Ectoplasm', and 'Works' at CDBaby.
Now, Barry, some nostalgia for the old freaks – Don, Bunk, and the rest of the 1969 Mothers of Invention performing the "Eric Dolphy Memorial Barbecue" and "The Orange County Lumber Truck" at Appleton (1969-05-23) and Miami Beach (1969-02-08), respectively:
1969 Mothers of Invention:
Frank Zappa – lead guitar, lead vocals, band leader
Lowell George – guitar, vocals
Ray Collins – vocals (Miami only)
Ian Underwood – woodwinds, keyboards
Bunk Gardner – woodwinds
Motorhead Sherwood – baritone saxophone
Don Preston – keyboards
Roy Estrada – bass, vocals
Jimmy Carl Black – drums, vocals
Art Tripp – drums