The Sancho Plan collective have created an animated short film entitled "The Black Page". It is apparently quite an ambitious undertaking:
The Black Page is our first true interactive short film & by far our most ambitious project to date. Combining the highest quality musical and visual design, The Black Page is a new entertainment experience in which our live onstage band will control in real-time a cast of onscreen animated musical characters.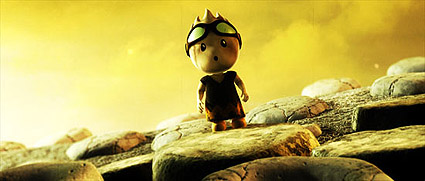 The short film tells the tale of a lost wanderer who stumbles into a surreal desert landscape, and learns that the door home can only be opened by an unusual guardian. "Frank Zappa meets Salvador Dali in this unique interactive entertainment experience."
World premiere: 24th September 2009, Tyneside Cinema, Newcastle UK.
More background here.