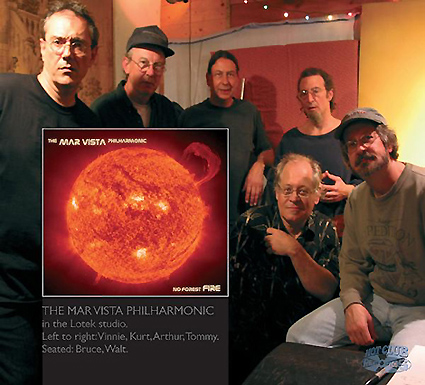 Any fan of Tommy Mars' improvisational keyboards and scat filled solos within such classic Zappa compositions as "Pound For A Brown (On The Bus)" or "Little House I Used To Live In" will absolutely love the four tracks ("No Forest Fire", "Prison Bush", "Bitches Castle", and "Here, George") which make up The Mar Vista Philharmonic CD, No Forest Fire.

The release of this performance of four group improvisations from the evening of August 22, 2002 is the first official release of one of the free form sessions I have been hosting at my studio in Los Angeles since the early 1990's. It also marks the first, last, and only time this particular group of musicians played together. Though Bruce, Walt, Tommy, Kurt and Larry had been involved in many other such sessions, this was the first time Vinnie had joined us. I believe it was one of the best line-ups I have been able to assemble. Unfortunately, Kurt is no longer with us, so this recording captured the only performance of that special combination. We miss you, Kurt.

— Arthur Barrow, from CD liner notes
From the first track to the last, these improvisations have a wonderful "free jazz" quality to them. Indeed, it is because of the immensely high caliber of each musician, their sensitivity to each other and their own particular instruments and abilities which creates this awesomely inspired music. A tribute to each one of them.
As a sample, I offer the following track, Prison Bush:
[audio:Prison Bush.mp3]
The Mar Vista Philharmonic is the new name of this group, partly known under the name of The Band From Utopia, continuing the musical legacy of the late Frank Zappa. Now the music is a free jazz jam, more Miles Davis than Frank Zappa:
Tommy Mars – Hammond organ, Fender Rhodes electric piano, vocals
Walt Fowler – trumpet, flugel horn
Bruce Fowler – trombone
Larry Klimas – tenor sax, soprano sax
Kurt McGettrick – bass clarinet, baritone sax
Arthur Barrow – electric bass
Vinnie Colaiuta – drums
No Forest Fire is available through either Hot Club Records or Qualiton Imports Ltd.
Note: if we are infringing on anyone's copyright, contact KUR and we'll remove the offending material.