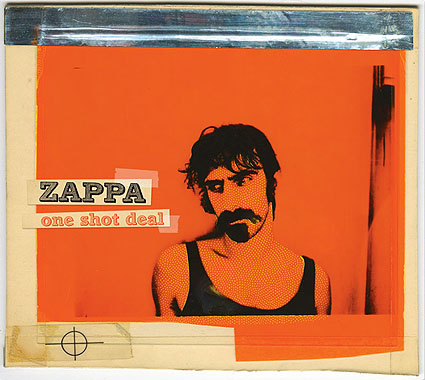 A friend finally lent me a copy of the latest ZFT release, One Shot Deal, for review the other day. Although it is always great to hear Frank Zappa, no matter what the excuse, my first reaction upon listening to this compilation was: Huh? What? Why? To any long time listener of FZ (right down to the rabid collector and completist), the tracks on this compilation will all seem quite familiar.
"Bathtub Man" sounds like many of the boogie/jams from the Roxy period (FZ was an obsessive recordist) which found their way onto the bootleg circuit via their road manager, Marty Perellis, who sold many 73-74 soundboard tapes to eager fans. The same can be said for "Space Boogers" and "Hermitage". I kept getting this feeling that I'd heard these pieces before, or efforts quite like them, from the myriad of brilliant individual solos to be found on so many of FZ's field recordings from that period of his career.
"Trudgin Across the Tundra" is an early instrumental proto version of the familiar FZ classic akin to the proto versions of Greggery Peccary found on the Wazoo release. "Occam's Razor (On the Bus – Original Solo)" is one of this compilation's gems, and the reason that freaks like me collect so many bootlegs and field recordings: to hear the original solos. I first heard "Heidelberg" (opening solo to Yo Mama) on the second disc of the four disc, fan made compilation bootleg, Apocrypha, and again on the cassette tape, The Guitar World According To Frank Zappa, though sounding far superior here.
"The Illinois Enema Bandit" is yet another version of this FZ standard. Probably the weakest point on this compilation is "Australian Yellow Snow". I have heard better bootleg versions from this tour. The sound, itself, in this recording is really a substandard mix for what is supposed to be an official release. Too often the background vocals nearly drown out FZ's lead vocals, and the audience chatter becomes very distracting. Perhaps the ZFT are attempting to dumb down our listening standards so they can begin selling us anything with a FZ stamp on it, no matter the quality? If there is one reason, though, for purchasing this CD, "Rollo" is that reason. Wow. I never tire of hearing that song.
Getting back to the premise of this post, though, what was the point of this release? There doesn't appear to be any, at least none that I can fathom. There is little, if any, conceptual continuity going on. Instead of piecemeal compilations like this one, how about further sequels to the Stage series with complete liner notes? Or the Complete Audio History of Frank Zappa and the Mothers of Invention? Like, Duh?