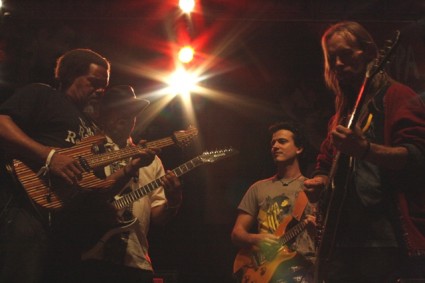 In the beginning there was a word, and the word was secret, and the secret word was…Mudshark! And for fifty years the Mudshark ruled supremely as the only secret word on the planet Earth, but one day the Mudshark became older, and began to turn yellow, and decided to go onward and upward into the cosmos as a Yellow Shark…But, in his wake, he left a void…filled by MTV and Supermarket Shopping Musik! And the family of the Mudshark became so bloated that they didn't know what to do anymore with the legacy which the Mudshark had left behind him…They became concerned with the question of whether or not a Fish, or a beard Fish, or a Zappatika or a Central Scrutinizer Band could be a Mudshark! And how we can stop them swimming in the waters of the ocean! And the Mudshark looked on from high, and scratched his head, and scratched his beard, and he picked something living out of it, and he ate it. Then he pondered the question…"I wonder if there'll ever be a new secret word?"

"The Secret Word", ZAPPATiKA! Live at Zappanale #21

For as long as Zappanale has been functioning as a festival, I confess, I have always had a secret yearning to get my grubby completist hands on any or all of those privately released CDs of the acts performing at the festival, as well as the myriad limited edition compilations put out privately by the Arf Society. As a collector of Zappa and Mothers and related music, these are indeed some of the most difficult to come by, if not downright impossible (unless one is actually at the festival). Why would I care to collect them? Simple. They offer glimpses into what has become the premier Zappa/Mothers music festival.
Well, someone somewhere must have been tapping into my psychic musical desires because just last week what should appear in my Inbox but an email from the band ZAPPATiKA along with a link to a file containing a Soundboard recording of their entire Saturday, August 14th, 2010, midnight performance at the Zappanale Festival (with guest Ike Willis), offering it freely to seed or publish online.
So, after some further editing on my part (into individual tracks) here's the ZAPPATiKA's Zappanale #21 show in it's full glory:
ZAPPATiKA (with Ike Willis)
Zappanale 21
Galopprennbahn
Bad Doberan, Germany
August 14th, 2010
(2hr set at midnight)
1. Intro
[audio:20101002_01 Intro.mp3]
2. The Torture Never Stops
[audio:20101002_02 The Torture Never Stops.mp3]
3. I'm the Slime
[audio:20101002_03 I'm the Slime.mp3]
4. Wonderful Wino Man
[audio:20101002_04 Wonderful Wino Man.mp3]
5. The Secret Word
[audio:20101002_05 The Secret Word.mp3]
6. Dirty Love
[audio:20101002_06 Dirty Love.mp3]
7. Sleep Dirt
[audio:20101002_07 Sleep Dirt.mp3]
8. Cosmik Debris
[audio:20101002_08 Cosmik Debris.mp3]
9. Wino Willie Hop
[audio:20101002_09 Wino Willie Hop.mp3]
10. I Have Been In You
[audio:20101002_10 I Have Been In You.mp3]
11. Broken Hearts Are For Assholes
[audio:20101002_11 Broken Hearts Are For Assholes.mp3]
12. Sexually Harassed
[audio:20101002_12 Sexually Harassed.mp3]
13. Titties 'n' Beer
[audio:20101002_13 Titties n Beer.mp3]
14. Thru the Wormhole
[audio:20101002_14 Thru the Wormhole.mp3]
15. Ballad of Leroy
[audio:20101002_15 Ballad of Leroy.mp3]
16. My Guitar Wants To Kill Your Mama
[audio:20101002_16 My Guitar Wants To Kill Your Mama.mp3]
17. Watermelon In Easter Hay
[audio:20101002_17 Watermelon In Easter Hay.mp3]
18. Untitled
[audio:20101002_18 Untitled.mp3]
19. City of Tiny Lites
[audio:20101002_19 City of Tiny Lites.mp3]
20. Black Napkins
[audio:20101002_20 Black Napkins.mp3]
ZAPPATiKA is:
McInnes: lead vocal & lead guitar
Zomby Woof: rhythm guitar & vocals
Bongo Fury: percussion, xylo, tabla, vocals
The Kid: bass
Daddo: guitar & vocals
KE: violin
Batta-Tutti: drums
ZAPPATiKA is the kind of band that Zappa purists love to hate, and is exactly the sort of band that would send Gail into a rabid froth. They do not play Zappa's music note for note. For that reason alone, they are well worth a listen. I like how they merge Zappa's music into their own explorations of West Indian, Mongolian, and Slavic melodic influences with humor and verve.
If Zappa's music, indeed, has a legacy, it is not as a museum piece, stuck on a shelf (sought after only by academics) but as part of living, breathing bands in front of live audiences.