Civilization Phaze III
For information on the pre-release version of CPIII, check out this page.
The last "real" Zappa release. Differences have been reported between the Barking Pumpkin and Zappa Records CDs (there is not an official vinyl release of this title), but these have not yet been confirmed (physical differences between the packaging have been confirmed, though).
CPIII is not commonly available new through retail channels. US fans should order it from Barfko Swill/MusicToday, while European fans have good things to say about G&S Music.
Issues
US CD (Barking Pumpkin UMRK 01, December 1994)
UK CD (Zappa Records CDDZAP 56, December 1994; promo copies also in circulation: CDDZAP 56 P)
Japanese CD (Music Scene Inc. MSIF-1)
German CD (Zappa 211.6056.2) (?)
What We Need: Are we entirely sure that the BP and Zappa Records CDs sound different?
Mike Espinoza ordered his copy from Barfko-Swill, and it came in a
white box made of cardstock. The back of it has a pumpkin illustration with Zappa's moustache and a return address for Barking Pumpkin. Inside the box is the same CPIII that we all have with the flaming piano/flying space bug illustration. When I saw CPIII in stores, it was merely shrink-wrapped. Since I got it in the box from Barfko-Swill, I just assumed that everyone else did, too.

I wish that EIHN had come in the same sort of box. It would be better to protect the felt cover.
US CD vs UK CD
Barkin Pumpkin UMRK 01
Zappa Records CDDZAP 56
From Mikael Agardsson:
I have both the British (CDDZAP 56) and American (UMRK 01) version, and there are actually differences between these two: the cover and the sound quality. The UK version has a shiny cover, while the American cover is more matted with softer colours. The UK version sounds good, but the American sounds even better, with more detail in both the high and low ends. So if you have a choice between these two versions, you should definitely choose the American. (You may have to wait a while for it, if you order it through Barfko-Swill.)
From other people:
GEIR CORNELIUSSEN: There's one thing I always have hated about Civilization Phaze III. I have mentioned that before out here, only to hear stuff like: "Buy a new one", "Hey, it was a prizewinner", etc etc. Well, that interests me as much as a pimple on the butt. What I talk about? The bad quality of the paper and packaging, and the bad pressing of the discs themselves ... The music is fantastic, and the art is fantastic. The manufacturing is crap, worse than a box of biscuits.

MIGUEL AMORIM: Why don't you be more careful of the Civilization Phaze III CDs? It's not intended to be smashed with a sledge-hammer, or to be thrown around in a car's glove-box compartment or whatnot.

CHRIS MAXFIELD: Mine is fabulous. I don't know what you're talking about! The Lost Episodes and The Yellow Shark have some packaging problems (the little cardboard boxes aren't too sturdy) but my copy of Civilization Phaze III seems high quality all the way.

MAGNUS KARLSSON: My copy comes direct from Barfko and the packaging is great, very solid. However, every copy I've seen at record stores in Sweden looks horribly beat up, especially on the edges, even though they're brand new and are kept behind protection glass. Are there differences in the packaging between European and American versions?

BLÄ: Yes, a difference in quality.
The page order in the booklets also differ. From Michael Nickel:
UMRK version: After the title page with the CD holder, the UMRK version starts with a black page (the back side is the beetle in the red circle). The next page is the first transparent page with the "spotlight beetle". Then comes the "Intro page: FRANK ZAPPA CIVILIZATION PHASE III" (the back side is the white "page two").

Zappa Records version: After the title page with the CD holder, the Zappa Records version starts with a black page (the back side is the beetle in the red circle). The next page is the "Intro page: FRANK ZAPPA CIVILIZATION PHASE III" (the back side is the white "page two"). The next page is the first transparent page with the "spotlight beetle".

If you turn the booklets around, it's the same with the last transparent pages in the other direction.
UK Promo CD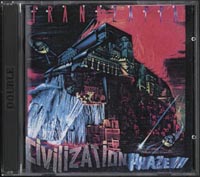 From Mikael "något helt annat" Agardsson:
As far as I know, only the UK version exists as a promo CD (Zappa Records CDDZAP 56 P). The differences between the regular and the promo are:

The CDs are not black, but plain silver with black lettering. "For promotional use only / Not for sale" printed on the discs.
The packaging is not a digipak, but a regular slim-line double jewel case.
There is no booklet, just a cover picture inlay.
The cover picture is also slightly different - the hues are a lot bluer and the print a lot less sharp.
Crapnote
From Jamie Kerr:
I bought Civilization Phaze III, got home and found two disc ones. I returned it. Six months later I saw it again at the same store so I asked them to check it before buying it. It was the same discs! Fingerprints and all!
Rumours & Stagecraft
Pretty early on, a rumour got started that some enterprising crooks in Australia were selling counterfeit vinyl copies of this album, and it was said that Gail Zappa herself believed this to be true, or at least was worried about it. But it has never been proven true; no one seems to have ever seen one of these illegal Australian vinyl copies, and it is likely that they never existed. Another rumour, from alt.fan.frank-zappa, September 1999:
HANS ALSTERS: I want to buy Civilization Phaze III in Holland, but it seems not available anymore. Yet they could import a box Civilization Phaze III from the US with 3 CDs. Anybody who knows what's on the third CD?

ROLF MAURER: Somebody's confused. There is no 3-CD version of Civilization Phaze III, except in our collective dreams. Your record store might be thinking of Shut Up & Play Yer Guitar, which was formerly available on 2 CDs but now comes boxed in a 3-disc format. Or they might have been thinking of the 3-CD price you'll have to pay for Civilization Phaze III once they special-order it from Barking Pumpkin.
And in December 1998, two nasty people on alt.fan.frank-zappa (Patrick David Neve and [name withheld upon request]) spread rumours on the internet about 8-track and Sony Playtape* issues, respectively, using fake, edited JPG images. Of course, neither of these ever existed. If you ever hear a rumour about Civilization Phaze III coming out on any format other than CD, don't believe it until you see and hear a copy with your own eyes and ears.
Question
Any comments on the "German version"?
Again: are we entirely sure the two CDs (Zappa and BP) have different sound quality?
Footnote
*) A playtape was a 2-track tape cartridge, originally invented in the 1940s but presented to the public in the late '60s, which held up to 24 minutes of music. (We're Only In It for the Money actually came out on playtape.) It was the first consumer tape format with portable players available, but as soon as portable players started to appear for other tape formats, the playtape format started dying out. If you want to read more about playtapes - why would you - here's a link to an article on the Dead Media Project page.