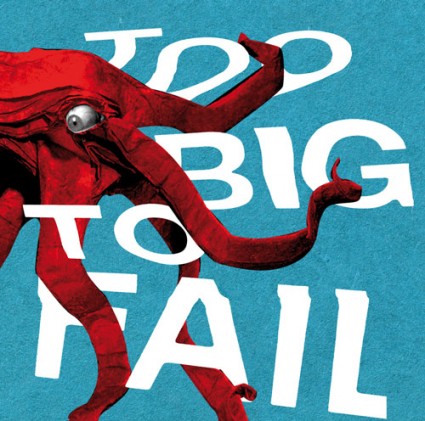 FiDO plays ZAPPA – the Swiss 10 piece orchestra – has been one of my absolute favorite Zappa tribute bands since I first heard their CDR, FiDO plays ZAPPA Live @Sudhaus Basel in 2007, followed by their incredibly energetic 2008 DVD, FiDO plays ZAPPA on the Dental Floss. Now in 2011, FiDO plays ZAPPA present their first studio album: Too Big To Fail.

I knew at once this was no ordinary collection of Zappa covers (including four original compositions by the band). Gone was the heavier, electrically driven band that I was familiar with; in it's place was a more acoustic, acid jazz, free wheeling improvisational group that bandied from laid-back lounge vocals to country grooves to funky soul to the outrageous avant-garde – all the while placing their own unique "eyebrows" on many Zappa classics. For instance, the album opens up with a familiar, yet entirely unique rendition of Zappa's 'Yellow Snow' / 'Nanook' / 'St.Alphonzo' / 'Father O'Blivion' set. My only criticism is that the set comes to an end too soon (and some of the 17 tracks that make up this CD are just too damn short):
Don't Eat the Yellow Snow
[audio:20110201_01 Don't Eat the Yellow Snow.mp3]
Nanook Rubs It
[audio:20110201_02 Nanook Rubs It.mp3]
St. Alphonzo's Pancake Breakfast
[audio:20110201_03 St. Alphonzo's Pancake Breakfast.mp3]
Father O'Blivion
[audio:20110201_04 Father O'Blivion.mp3]
That said, though, FiDO plays ZAPPA does end this CD with mammoth original composition that more than makes up for any shortcomings:
Musician's Salary
[audio:20110201_17 Musician's Salary.mp3]
Final analysis. Pick this one up.