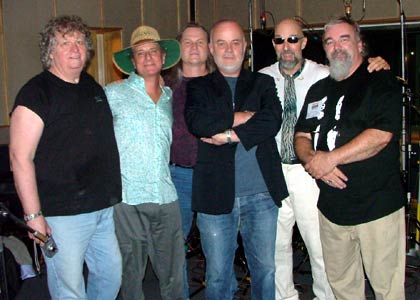 Besides being an avid collector of Frank Zappa and Mothers of Invention bootlegs and field recordings – as well as a collector of Captain Beefheart's various and sundry recordings (and a collector of all the related recordings of the various alumni who, at times, played in both groups) – I'm also an avid collector of live radio broadcasts. I've always found something intrinsically interesting about an artist's and group's live radio performances (as though they put on that little extra show for the benefit of the radio listener).

Take the late John Peel's presentation of the reformed Magic Band in session at the BBC on July 7th, 2004, for instance. While apparently dismissing them as nothing more than a tribute act, at first, Peel quickly changed his tune after hearing them and invited them to perform a session at Maida Vale Studios in London, UK. While the physically ailing Don Van Vliet is not present, his spirit definitely infects the studio, and the music itself. In addition, one receives insider information about the creation of certain songs not found any where else:
Diddy Wah Diddy
[audio:20100206_Diddy Wah Diddy.mp3]
Abba Zabba
[audio:20100206_Abba Zabba.mp3]
My Human Gets Me The Blues
[audio:20100206_My Human Gets Me the Blues.mp3]
Electricity
[audio:20100206_Electricity.mp3]
The Floppy Boot Stomp
[audio:20100206_The Floppy Boot Stomp.mp3]
Mirror Man
[audio:20100206_Mirror Man.mp3]
Big Eyed Beans From Venus
[audio:20100206_Big Eyed Beans from Venus.mp3]
For a complete download of The Magic Band – Peel Sessions, July 2004 performance, click here (note: megaupload)
The band consisted of John French (Drumbo) on vocals and drums, Gary Lucas and Denny Walley on guitar and Mark Boston (Rockette Morton) on bass. and Robert Williams on drums. At the start of their only European tour, Williams left and was replaced by Michael Traylor. The band released two albums, Back To The Front and 21st Century Mirror Men before ceasing their activities in 2006.