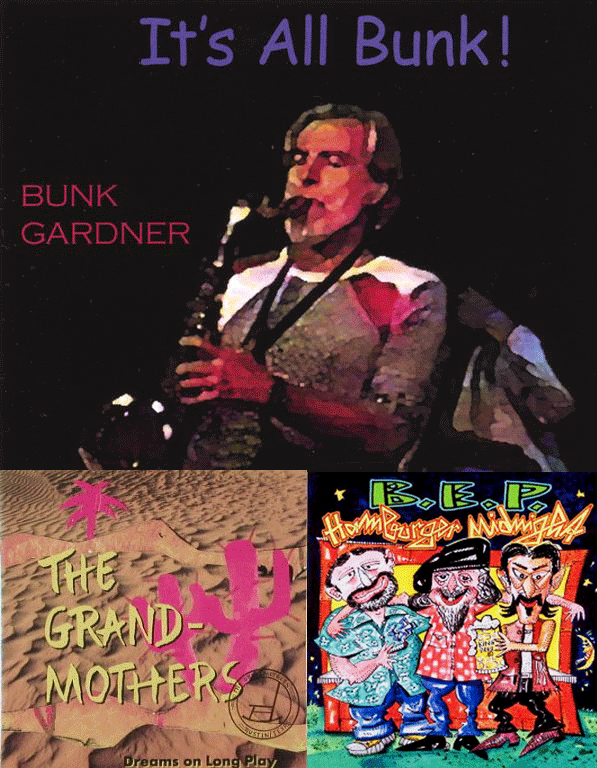 What do you get a Zappa fan for Xmas who has everything (okay, well, mostly everything, then)? There's always Freak Out ale, or a ZPZ DVD? Or perhaps even the latest offering of FZ-related merchadise from Barfko-Swill.
Myself, after enjoying my serving of Don Preston's Vile Foamy Ectoplasm which I ordered from CD Baby earlier this year, along with Napoleon Murphy Brock's After Frank: 1st Movement (featuring Gregarious Movement), and Jimmy Carl Black's Where's The $%&§#@' Beer? I ordered three more Crossfire Publications titles from CD Baby:
The first-ever Bunk Gardner solo album! It's All Bunk! spans Bunk's first sessions with Bud Wattles And His Orchestra (1959) to a live track with The Grandmothers in 1981. In between are post-Mothers improvised recordings done with his late brother Buzz and bassist John Balkin, and melodic pieces with the late Andy Cahan. More than half of these tracks have never been released in any form. In tribute to Buzz Gardner, Buzz's My Love Has Gone is also included.
[audio:http://www.killuglyradio.com/wp-content/uploads/2008/12/18-qualude-to-chaos-and-fine.mp3]
B.E.P. (Jimmy Carl Black, Roy Estrada, Mick Pini) — Hamburger Midnight
Download-only release! In early 2002, former Mothers Of Invention drummer Jimmy Carl Black gave his old bandmate, bassist Roy Estrada, a call to find out if he was interested in recording an album of blues favorites and originals. Roy was completely into it and it was the first time they had recorded together since 1970. They were joined by UK guitarist Mick Pini, who had played with JCB in blues bands over the years. Recorded in Germany, the album contains the title track that Roy Estrada co-wrote and originally recorded with Little Feat. That song is presented as part of a medley and on its own for the first time. Roy also sings Little Richard's "Directly From My Heart To You," which Frank Zappa's Mothers Of Invention released on the album "Weasels Ripped My Flesh."
[audio:http://www.killuglyradio.com/wp-content/uploads/2008/12/12-slinkin-around.mp3]
The Grandmothers — Dreams On Long Play (Revised Version)
Download-only release! This edition of The Grandmothers was assembled in Austin, Texas in 1988 by Jimmy Carl Black with guitarist/vocalist Roland St. Germain, violinist Linda Valdmets, woodwind player Gerald "Eli" Smith and bassist Ener Bladezipper. "Dreams On Long Play" appears in its revised version here. For some reason, the band was unhappy with it and re-recorded most of the album (the original version is available separately). Regardless, this edition also features the bonus tracks "Taco Soup In 7/4," covers of Frank Zappa's "Let's Make The Water Turn Black" and "Lonesome Cowboy Burt," the unedited version of "The," an edit of "Waiting" and a brilliant cover of The Beatles' "I Am The Walrus."
[audio:http://www.killuglyradio.com/wp-content/uploads/2008/12/15-lonesome-cowboy-burt-live-at-kut.mp3]
Check out these and other Crossfire CDs at CD Baby and, perhaps, bring a smile to that Zappa-fanatic near you (and, no, I'm not receiving payola…sniff, sniff…I just dig the Crossfire catalog). The three audio tracks offered as samples are: "Qualude To Chaos And Fine", "Slinkin' Around", and "Lonesome Cowboy Burt (Live at KUT)" respectively.
Note: If anyone feels we are infringing their copyright, contact us and we will remove the item in question.