August 30th, 2008 • Barry's Imaginary Publisher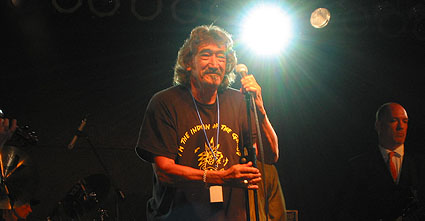 Last week, Jimmy Carl Black had an operation to remove a tumour on his lung. Now, the tumour has turned out to be cancerous. Idiot Bastard Son, who spoke with Jimmy last Thursday writes:
He sounded fairly chipper, but they say they can now only treat him with more chemotherapy. He comes out of hospital on Monday (1 September) and will soon start his treatment as an out patient. To help Jimmy pay his mounting medical bills, there's a special limited edition CD (Stick Man For Ever!) and some nifty apparel and other stuff available to buy here. Please do what you can to help the dear old Mother.
Cancer is a treacherous bitch. Do place an order if you can…
Picture courtesy of antaladriaanse