"Various Artists" Compilations Featuring Frank Zappa
These are some "various artists" compilation from around the world, that feature one or a few Zappa tracks. (Promos with Zappa among various artists are on the Promos page.) There have to be hundreds of them, so if you know of others, just mail me and we'll get them listed here for no good reason.
Warner/Reprise Display Case (2 LP, Warner Bros PRO 503, 1971)
Warner/Reprise Display Case Volume 5 (Warner Bros)
Alternatives (Warner Brothers WS 1873, Canada prior to 1972)
Warner/Elektra/Atlantic Sounds For All Seasons (1975 promo, includes "200 Years Old")
Quadraphonic Experience (CD 4, Germany, 1974)
Golden Super Stars (3 LP, WEA 68 016 E, Germany, 1970s)
Super Stars Live (3 LP, WEA 68 008, Germany, 1974; promo copy reported)
Hot Acid Rock Volume 4 (8-track, Buccaneer something (?), 1979 or later)
The Hit List: Terrific 2-Record Set - 22 of 1982's Best Hits (K-Tel TU-3040)
Dr Demento's 20th Anniversary Collection (Rhino CD and cassette 70743, 1990)
Guitar Player Presents Legends of Guitar Volume 1 - Rock: the '70s (Wea/Atlantic/Rhino CD 70721 (also on cassette), April 2 1991)
Supernatural Fairy Tales: The Progressive Rock Era (Rhino CD 72451)
Just Can't Get Enough: New Wave Hits of the '80s, Volume 5 (Rhino CD and cassette R2 71698, 1994)
Revenge - a Tribute to Jimi Hendrix (Gravity 682 550)
HAPPY TOGETHER Soundtrack (Rock Records ROD5150, Hong Kong, January 1996)
THE ICE STORM Soundtrack (Velvel Records VEL-79713, October 21, 1997 or February 19 1998)
En Gång Till 1979 (Sony Columbia COL 493230 2, Sweden, 1998)
fulliedialedinn (1998)
Nick at Nite Goes to Outer Space (CD and cassette, Sony/Wonder, September 9 1997)
... The Month's Best Music - August 1999 (CD, August 1999)
'80s New Wave - Millenium Party (Rhino CD/cassette 75923, October 5 1999, also available in a "Millenium Party 5-CD brick")
Y TU MAMÁ TAMBIÉN Soundtrack (Suave 52303, January 15 2002; Volcano 32191, March 5 2002)
Absolute Rock Ballads (ACCD 3002, Sweden January 21 2002)

Captain Beefheart & the Magic Band: The Dust Blows Forward (an Anthology) (Rhino 75863 (2 CD-box), 1999)
Steve Vai: The Secret Jewel Box (Light Without Heat Records, 2001)
Warner Brothers Display Case
Unique material: none
Zappa material: "Tears Began to Fall" & "Mud Shark"
1. Jethro Tull: Hymn 43
2. Jethro Tull: Mother Goose
3. Randy Newman: Maybe I'm Doing It Wrong
4. Randy Newman: Living Without You
5. Randy Newman: Tickle Me
6. Fanny: Charity Ball
7. The Mothers: Tears Began to Fall
8. The Mothers: Mud Shark

9. James Taylor: Long Ago & Far Away
10. John Baldry: Boogie Woogie
11. Mary Travers: The Song Is Love
12. Mary Travers: Follow Me
13. Trinidad Steel Band: Cecilia
14. Youngbloods: Sugar Babe

15. The Beach Boys: Feel Flows
16. The Beach Boys: 'Til I Die
17. Paul Stookey: Wedding Song
18. Paul Stookey: Sebastian
19. Labelle: Morning Much Better
20. Labelle: Shades of Difference
21. John Sebastian: Apple Time

22. Moby Grape: Gypsy Wedding
23. Moby Grape: Road to the Sun
24. Paul Parrish: Numbers
25. Paul Parrish: Jaynie
26. Paul Parrish: When They Return
27. Thirty Days Out: Mama, Come See Me Tonight
28. John D Loudermilk: Abilene
From Ryan Davenport:
Both of the Zappa tracks are from the Fillmore East - June 1971 album. I have seen listings for at least 10 volumes of the Display Case collection - this one doesn't show any volume number, and judging by the catalog number and the date, it was the first one. Apparently, Volume 5 also contains a (or some) Zappa track(s). Don't know about any of the others, but Beefheart is on Volume 10.
Alternatives
Unique material: none
Zappa material: "Directly from My Heart to You"
1. The Jimi Hendix Experience: Purple Haze
2. Neil Young & the Crazy Horse: Cinnamon Girl
3. James Taylor: Suite for 20G
4. Grateful Dead: New Speedway Boogie
5. John Sebastian: Rainbows All Over Your Blues
6. Mothers of Invention: Directly from My Heart [to You] [Penniman]
7. Gordon Lightfoot: Minstrel of the Dawn
8. Arlo Guthrie: Creole Belle
9. Jethro Tull: Reasons for Waiting
10. Joni Mitchell: Woodstock
11. Small Faces: Around the Plynth
12. Tim Buckley: Happy Time
13. Graham Bond: Neighbor Neighbor
14. Van Morrison: Into the Mystic
Liner notes:
This is an album called Alternatives, the moniker our mammoth Title Department came up with after they were told to name an album of well-known, culturally significant and occasionally danceable non-hits of undeniable musical merit.
Informants: Obsolete Kid
Unique material: none (but it's rare)
Zappa material: "Excentrifugal Forz" from the quadraphonic version of Apostrophe (')
1. Gordon Lightfoot: Sundown
2. The Doobie Brothers: Pursuit of 53rd Street
3. Alice Cooper: Muscle of Love
4. The Mystic Moods: Cosmic Sea
5. Frank Sinatra: Let Me Try Again (Laisse Moi le Temps)
6. Frank Zappa: Excentrifugal Forz
7. 4-Channel Demonstration

8. Bette Midler: Booogie Woogie Bugle Boy
9. Billy Cobham: Quadrant 4
10. Donny Hathaway: The Slums
11. Modern Jazz Quartet: Don't Stop This Train
12. Charles Mingus: Canon
13. Roberta Flack: Killing Me Softly
14. Eric Salzman: Larynx Music
15. George Flynn: Winter Music (excerpt)
This was a quadraphonic LP, made in Germany in 1974, when quadraphonic sound - a four-channel system which never caught on - was hot. The only Zappa albums that got quadraphonic versions were Apostrophe (') and Over-Nite Sensation.
Informants: Patrick David Neve, 4earsguy
Golden Super Stars
Unique material: none
Zappa material: "Disco Boy"
An ugly drawing on the cover depicts artists such as George Benson, Alice Cooper, the Doobie Brothers, Fleetwood Mac, Rod Stewart (all presumably featured on the records, of course) and Frank Zappa holding gold records.
Informants: kkp5, Splat
Super Stars Live
Unique material: none
Zappa material: side two of Just Another Band from LA
From "U", who spotted a promo copy:
The three LPs came in a triple cover - imagine a booklet with six pages, where each leaf is a record cover. That makes for two gatefold surfaces, and three large surfaces of equal size: the front-and-back-cover fold-out, plus two inner gatefolds. Each of these three is illustrated with a cartoon by "Gil Funccius".

The front-and-back-cover fold-out shows a crowd going into a concert hall. Above the entrance to the hall is a marquee saying (and these words are on the front cover, to bee seen when you leaf through the record bin):

TODAY
YES . FACES . BEACH BOYS
MOTHERS OF INVENTION
DOORS . IRON BUTTERFLY

The first inner gatefold shows three of the above groups in "backdoor-arrival dressing-room environs". The second inner gatefold has the Mothers of Invention standing on a stage constructed of gradually smaller round discs on top of each other (imagine a wedding cake). The band members stand with their instruments on the various levels. Zappa, on the top level, is the only one to inhabitate a level all by himself. The two remaining bands can be seen here watching the show from boxes or upper rows, not mixing with the lay audience. Everyone's face is painted as a true portrait with great detail and realism.

Each group is given one LP side. All live recordings. The mothers can be found on side six, with the whole side two from Just Another Band from LA:

1. Call Any Vegetable
2. Eddie, Are You Kidding
3. Magdalena [Zappa/Kaylan]
4. Dog Breath

(As I held the album in a record store and saw "WEA" together with the three logos, I realised that "WEA" meant Warner Brothers & Electra & Atlantic, but I suppose everyone else already knows that.)
Hot Acid Rock Volume 4
Unique material: none
Zappa material: "Dancin' Fool"
1. Styx: Superstars
2. Electric Light Orchestra: Mr Blue Sky
3. Frank Zappa: Dancin' Fool

4. Cheap Trick: I Want You to Want Me
5. The Who: Trick of the Light
6. April Wile: Roller

7. Styx: Put Me On
8. Allman Brothers: Crazy Love
9. Boston: Feelin' Satisfied

10. Kiss: Shock Me
11. Sweet: Cover Girl
12. Aerosmith: Come Together
The tape is dark with a yellow label. There are three logos on it, two of which are a dragon and a crossbone skull, and the record company may be called something with "Buccaneer". (There's also (?) a CD bootleg label called Buccaneer.)
Informants: SE-Licker
The Hit List: Terrific 2-Record Set - 22 of 1982's Best Hits
Unique material: none
Zappa material: "Valley Girl"
From Michael Gula:
I picked up this 2-LP K-Tel record for a buck at a flea market titled The Hit List: Terrific 2-Record Set - 22 of 1982's Best Hits. Side two ends with "Valley Girl" by Frank & Moon Zappa. Unlike other collections where this track segues into the next, it comes to a full ending as (I presume) the single release did.
Unique material: none
Zappa material: "Dancin' Fool"
Who is Dr Demento? According to Rhino Records,
Barry Hansen is a regular visitor to the Rhino offices; as one of the foremost collectors of vintage vinyl, he's an invaluable resource for Rhino, helping compile many of our blues, R&B, and jazz collections. But put a top hat on his head and a bicycle horn in his hand and he morphs into alter ego Dr. Demento, beloved by millions of radio listeners as the best friend the novelty record ever had.
The good Doctor's demented history goes back to the broadcast booth of Pasadena, California's KPPC-FM in 1970. His madcap musical museum quickly grew to become the highest-rated show in its time-slot in Los Angeles. By the mid-1970s, radio syndication had spread dementia from coast to coast, and now The Dr. Demento Show can be heard on scores of stations across the country.
Yes, it's a compilation of novelty songs and "comedy music"; Frank's "Dancin' Fool" shares the bill with Spike Jones, Tom Lehrer and Freddie Blassie. From RIFF RAFF FROM MICHIGAN:
Regarding the Ryko Issue of Sheik Yerbouti ... I agree with other folks on the mix of this CD. It's not that good. The bass drum hits at the end of "Flakes" are overpoweringly loud ... Also, the intro to "Dancin' Fool" drives me nuts. The cymbal hits make the rest of the mix drop in volume, which tells me that compression was used incorrectly on this (as others have suspected). I found a homemade recording of Sheik Yerbouti on quarter-inch reel-to-reel (7.5 ips) in a thrift shop which actually sounds wonderful. I assume it was dubbed from vinyl. "Dancin' Fool" also appears on a Dr. Demento compilation CD, and that version doesn't seem to suffer from the aforementioned bad compression.
Unique material: none
Zappa material: "Inca Roads" (One Size Fits All version)
Zappa contributed "Inca Roads" to this at-least-triple-CD box from Rhino. The gargantuan track list is:
1. The Nice: America
2. Traffic featuring Steve Winwood: Paper Sun
3. Procul Harum: Procol Harum
4. The Pretty Things: Private Sorrow/Balloon Burning
5. The Moody Blues: Legend of a Mind
6. Renaissance: Kings & Queens
7. Rare Bird: Sympathy
8. Pete Sinfield: Under the Sky
9. Klaus Schulze: Searching
10. Kingdom Come: Sunrise
11. Aphrodite's Child: The System/Babylon
12. Atomic Rooster: Death Walks Behind You
13. Ash Ra Tempel: Der Vierte Kuss
14. Van Der Graaf Generator: Killer
15. Emerson, Lake & Palmer: Oh Yeah - Can Knife-Edge
16. Caravan: In the Land of Grey & Pink
17. Curved Air: It Happened Today
18. Focus: Hocus Pocus
19. Wigwam: Prophet/Marvelry
20. Yes: Perpetual Change
21. Argent: Lothlorien
22. Roxy Music: Ladytron
23. Supersister: Radio
24. Savage Rose: Dear Little Mother
25. Genesis: The Musical Box
26. Electric Light Orchestra: Roll Over Beethoven
27. Strawbs: New World
28. Premiata Forneria Marconi: Celebration
29. Emerson, Lake & Palmer: Karn Evil 9
30. Genesis: Dancing with the Moonlit Knight
31. Yes: Siberian Khatru
32. Roxy Music: Virginia Plain
33. Wishbone Ash: Warrior
34. Lard Free: Warinobaril
35. Amon Düül II: Mozambique
36. Strawbs: Round & Round
37. Nektar: Questions & Answers
38. Ange: Fils de Lumiere
39. Le Orme: Ritorno Al Nulla
40. Clearlight: Without Words
41. Seventh Wave: Star Palace of the Sombre Warrior
42. Gong: Perfect Mystery
43. Gentle Giant: Free Hand
44. Henry Cow/Slapp Happy: War
45. Samla Mammas Manna: Andra Satsen
46. Hatfield & The North: Let's Eat (Real Soon)
47. Banco: Traccia II
48. Magma: Tröller Tanz (Ghost Dance)
49. Faust: It's a Rainy Day, Sunshine Girl
50. Quiet Sun: Mummy Was an Asteroid, Daddy Was a Small Non-Stick Kitchen Utensil
51. Golden Earring: Radar Love
52. Frank Zappa & the Mothers of Invention: Inca Roads [One Size Fits All version]
Zappa's track is completely out of place. The box even has a Roger Dean cover - like all symphonic rock albums had in their heyday. Most of the featured groups either had or would have given their right arm to have at least one cover made by Roger Dean; Zappa would probably have given both arms not to have one.
A quote from Rhino's "genre biography":
Prog, notes Patterson, was truly a product of fecund times. Dylan and The Beatles had liberated rock, and musicians from all corners and cultures approached a new world of possibilities with a sense of wonder - and, in some cases, irreverence, to judge by the track which opens Supernatural Fairy Tales: Keith Emerson and The Nice's 1968 romping interpretation (or, to the piece's composer Leonard Bernstein, desecration) of "America" from West Side Story. The closing "Inca Roads" by cultural iconoclast Frank Zappa, shows the same disregard for convention, setting its own course with wry, sarcastic humor and astounding musical chops.
Two paragraphs hand-picked from the lengthy liner notes:
... prog is part of a noble rock tradition. Many would call Sgt. Pepper's Lonely Hearts Club Band or Tommy the first volley of the prog advance. But perhaps the form can be traced to Phil Spector's mini teen operas. Or maybe Bob Dylan's literary aspirations. And certainly the mind and musical games played by the likes of Hendrix, Zappa, and Morrison (Jim and Van), among many other "cool" rock heroes, pointed the directions that were to be explored. [---]
It is not by accident that there is only one American artist included on this compilation. Frank Zappa not only exemplified innovation in the US, but carried his spirit of music without boundaries around the world as well. From the days of the original Mothers of Invention, who broke down musical and social barriers with each album and performance, to his later bands that featured some of the world's best musicians, Frank was always far ahead of the musical times. To choose one track was nearly impossible, but when you hear "Inca Roads" in the context of this compilation and this disc in particular, I think you'll see how it perfectly sums up all that has come before it. Frank may be gone, but he'll never be forgotten.
Just Can't Get Enough: New Wave Hits of the 80s, Volume 5
Unique material: none
Zappa material: "Valley Girl"
1. Bow Wow Wow: I Want Candy
2. The Waitresses: I Know What Boys Like
3. Kim Wilde: Kids in America
4. Haircut One Hundred: Love Plus One
5. Marshall Crenshaw: Someday, Someway
6. Great Buildings: Hold On to Something
7. The Jam: Town Called Malice
8. Tommy Tutone: 867-5309 / Jenny
9. Go-Gos: Vacation
10. Frank & Moon Zappa: Valley Girl
11. A Flock of Seagulls: I Ran (So Far Away)
12. Soft Cell: Sex Dwarf
13. Gang of Four: I Love a Man in a Uniform
14. Japan: The Art of Parties
15. Pete Shelley: Homosapien
16. Toni Basil: Mickey
Informant: Ryan Davenport
HAPPY TOGETHER Soundtrack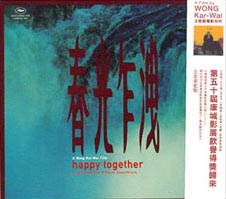 Unique material: none
Zappa material: "Chunga's Revenge" and "I Have Been in You"
1. Waterfall
2. Bar Sur I
3. The Mothers: Chunga's Revenge
4. Bar Sur II
5. Prologue
6. 3 Amigos
7. 3 Amigo III
8. Milonga for 3
9. Frank Zappa: I Have Been in You
10. Finale
11. Danny Chung (?): Happy Together [Bonner/Gordon]
12. Goal
13. HAPPY TOGETHER Trailer
(Artists for tracks 1-2, 4-8 & 10-12 are not known; if you can help with them, e-mail.)
The soundtrack CD from Wong Kar-Wai's
film HAPPY TOGETHER

, starring Leslie Cheung
, featuring two Zappa songs. (In the movie, only the beginning of "Chunga's Revenge" is played, and "I Have Been in You" is used up to the words "little girl".) The film was released in 1997, but the soundtrack album has been listed as a 1996 release.
(Further curia: this movie was originally banned in South Korea, because it's a gay movie, but when the ban was lifted in August 1998, it went straight to #1 in that country, ahead of films like LETHAL WEAPON 4, MÙLÁN

and ARMAGEDDON.)
See also: our Chinese/Japanese page [requires Chinese/Japanese language support]
Unique material: not quite -
Zappa material: "Dirty Love" (Over-Nite Sensation version) with reverse stereo image :)
The soundtrack album from Ang Lee's film THE ICE STORM featured the Over-Nite Sensation version of "Dirty Love".
1. Shoplift
2. Finale
3. David Bowie: I Can't Read
4. Traffic: Light Up Or Leave Me Alone
5. Frank Zappa: Dirty Love [Over-Nite Sensation version but with stereo image reversed]
6. Jim Croce: I've Got A Name
7. Bobby Bloom: Montego Bay
8. Antonio Carlos Jobim: O Grande Amor
9. Cornelius Brothers & Sister Rose: Too Late to Turn Back Now
10. Sammi Smith: Help Me Make It Through the Night
11. Harry Nilsson: Coconut
12. Free: Mr. Big
The film score was written by a Mychael Danna, and the first two tracks are probably his. Here's a promotional description of the film itself:
THE ICE STORM is the story of what happened when the "Summer of Love" finally reached the suburbs and in particular, how it affected one family over Thanksgiving weekend 1973. The film is bsed on the 1994 James Moody novel and directed by Ang Lee (SENSE & SENSIBILITY) with a screenplay by James Schamus that took top honors at the Cannes Film Festival. The incredible cast includes Kevin Kline, Sigourney Weaver, Joan Allen (NIXON, THE CRUCIBLE), Elijah Wood (THE WAR, NORTH, THE GOOD SON) and Christina Ricci (NOW & THEN, ADDAM'S FAMILY VALUES). The film has been honoured as the prestigious opening night selection for te New York Film Festival. Not surprisingly, talk of Academy Awards had already surrounded THE ICE STORM. David Bowie has contributed an exclusive performance for the film. Ang Lee says "'I Can't Read' captures the essence of our film, about the longing to remember and the certainty that there is always something in our past that no film, song or book can ever capture." To capture November 1973, music supervisor Alex Steyermark has gathered together the songs that really were the soundtrack to people's lives at the time. Almost all the performances were top 10 US hits.
From Steve LaCombe:
"Dirty Love" on "Ice Storm Soundtrack" has a reverse stereo image relative to both the RYKO 1995 Over-Nite Sensation and Strictly Commercial versions. Tool used for discerning this fact: my two ears. The reversal of the image is most apparent with the drum track. Applying the mono feature, however, reveals no further audible diffences.
Unique material: none
Zappa material: "Bobby Brown" (Sheik Yerbouti version)
This Swedish compilation was sold via TV ads around Christmas 1998. It features hits from 1979, one of which is Zappa's "Bobby Brown". The CD booklet has printed lyrics. And "En gång till" means "one more time", and seems to have been a TV quiz show or something about popular music, with each show dedicated to one particular year.
Unique material: none
Zappa material: "Peaches en Regalia" (Hot Rats version)
"Personally selected by Ross Rebagliati, fulliedialedinn is an eclectic mix of urban, reggae, and guitar driven tunes!"
This compilation was put together by olympic snow-board champion Ross Rebagliati. It features:
1: Cypress Hill: Insane in the Brain
2: Rascalz: Soul Obligation
3: Sylk 130: City (5-6 theme)
4: The Pharcyde: Otha Fish
5: Wyclef Jean: Gone Till November
6: Finley Quaye: The Way of the Explosive
7: Peter Tosh: Stepping Razor
8: Jamiroquai: Virtual Insanity
9: Ben Harper: Gold to Me
10: G. Love & Special Sauce: Soda Pop
11: Bran Van 3000: Exactly Like Me
12: Esthero: Breath from Another
13: Beastie Boys: Fight for Your Right (to Party)
14: Reef: Place Your Hands
15: Rheostatics: California Dreamline
16: Frank Zappa: Peaches en Regalia
(thanks, James Croston)
From cypherpunk:
I was listening to Radiosonic on CBC Radio 2 tonight and Ross Rebagliati (gold medalist in snowboarding at the last winter Olympics) was being interviewed about this compilation album he put together. The album is supposed to consist of "snowboarding music", but guess what? "Peaches en Regalia" (from Hot Rats) is on the album! Apparently Rebagliati is a big Zappa fan; he says he has collected all of his albums and the Zappa Family Trust gave him permission to include this Zappa track on his album.
Here's Rebagliati's bio from the buzzwords.com web site, January 1999:
Born in Vancouver, B.C. on July 14, 1971, Ross Rebagliati now lives in Whistler where he enjoys golf, mountain biking, as well as surfing whenever he gets the chance.

Ross became a household name during the 1998 Winter Olympics in Nagano, Japan, when he became the world's first ever Snowboarding Gold Medalist.

So does Canada's star athlete sing on fulliedialedinn? No, but the album features some of Ross' favourite tunes. fulliedialedinn is an eclectic mix of urban, reggae and guitar driven songs that are perfect for riding the slopes or chilling at home.

Currently, Ross is competing in Europe.

Ross is sponsored by 24-7 Snowboards, Briko Goggles and Sunglasses, and Roots clothing.
Revenge - a Tribute to Jimi Hendrix
Unique material: none
Zappa material: "Purple Haze"
Gravity 682 550
Barcode: 3 483906 825507
1. Iggy Pop: Foxy Lady
2. Rickie Lee Jones: Up from the Skies
3. Jean-Paul Bourelly: Electric Ladyland
4. Ben Harper: Remember
5. Red Hot Chili Peppers: Fire
6. The Shamen: Purple Haze
7. Living Colour: Burning of the Midnight Lamp
8. Stevie Ray Vaughan: Voodoo Chile (Slight Return)
9. Ras Kente & the Take No Prisoner Posse: Hey Joe Dub
10. John Lee Hooker: Red House
11. Rod Stewart: Angel
12. Frank Zappa: Purple Haze
13. The Gil Evans Orchestra: Crosstown Traffic / Little Miss Lover
14. Triad: Message to Love
15. Phenomenum: Purple Haze
Informant: István Fekete
Nick at Nite Goes to Outer Space
Unique material: none
Zappa material: "Cosmik Debris"
1. Theme from STAR TREK
2. Adam Ant: Apollo 9
3. After the Fire: Starflight
4. Frank Zappa: Cosmik Debris
5. "Weird Al" Yankovic: Attack of the Radioactive Hamster from a Planet Near Mars
6. OMD: Apollo XI
7. Herbie Hancock: Rockit
8. Blondie: Rapture
9. Earth, Wind & Fire: Shining Star
10. Atlanta Rhythm Section: Alien
11. The Byrds: Mr Spaceman
12. Theme from LOST IN SPACE
Informant: Román García Albertos
Legends of Guitar Volume 1 - Rock: the '70s
Unique material: none
Zappa material: "Transsylvania Boogie"
1. James Gang: Funk #49
2. Lynyrd Skynyrd: Saturday Night Special
3. Foghat: My Babe
4. The Stooges: TV Eye
5. Lou Reed: Sweet Jane (Live)
6. Humble Pie: 30 Days in the Hole
7. Bonnie Raitt: Three-Time Loser
8. Rick Derringer: Rock & Roll, Hoochie Koo
9. Brownsville Station: Smokin' in the Boys' Room
10. Ted Nugent's Amboy Dukes: Maybelline
11. Mountain: Travellin' in the Dark
12. Blackfoot: Train, Train
13. Grand Funk Railroad: Time Machina
14. Outlaws: Freeborn Man (Live)
15. Tom Petty & the Heartbreakers: Breakdown
16. Frank Zappa: Transsylvania Boogie
Informant: Román García Albertos
... The Month's Best Music - August 1999
Unique material: None
Zappa material: "Who Needs the Peace Corps" (We're Only In It for the Money version)
1. Loudon Wainwright III: Pretty Good Day
2. Peter Bruntnell: By the Time My Head Gets to Phoenix
3. Red House Painters: Grace Cathedral Park
4. The Box Tops: The Letter
5. Beck & Emmylou Harris: Sin City
6. Marc Bolan & T-Rex: Jeepster
7. Kristin Hersh: Cathedral Heat
8. Townes van Zandt: Waiting Around to Die
9. Captain Beefheart: Electricity
10. Marianne Faithfull: Tower of Song
11. Fifth Dimension: Stoned Soul Picnic
12. Grandaddy: For the Dishwasher
13. Suicide: Diamonds, Fur Coat, Champagne
14. Mick Ronson: I'd Give Anything to See You
15. The Auteurs: Future Generation
16. Luscious Jackson: Beloved
17. Frank Zappa & the Mothers of Invention: Who Needs the Peace Corps?
18. The Birthday Party: Junkyard
19. Snakefarm: Laredo
Informants: Iron Man, Patrick Neve
'80s New Wave - Millenium Party
Unique material: None
Zappa material: "Valley Girl"
Track list, in the wrong order:
The B-52's: Rock Lobster
Devo: Whip It
A-Ha: Take on Me
Dexy's Midnight Runners: Come On Eileen
Eurythmics: Sweet Dreams (Are Made of This)
A Flock of Seagulls: I Ran (So Far Away)
Haircut One Hundred: Love Plus One
Madness: Our House
Men Without Hats: The Safety Dance
The Cars: Just What I Needed
Thompson Twins: In the Name of Love
Toni Basil: Mickey
Thomas Dolby: She Blinded Me With Science
Stray Cats: Rock This Town
Soft Cell: Tainted Love
Modern English: I Melt With You
Gary Numan: Cars
Bow Wow Wow: I Want Candy
Frank & Moon Zappa: Valley Girl
Wang Chung: Everybody Have Fun Tonight
This compilation has also sold in a "5-CD brick" together with Rhino's other Millenium Party compilations: "Classic Rock" (75627), "'60s Rock" (75780), "Hip Hop" (75699), and "Funk" (75467).
Tipper: Román García Albertos
Y Tu Mamá También Soundtrack
Suave 52303, January 15 2002
Volcano 32191, March 5 2002
Unique material: none
Zappa material: "Watermelon in Easter Hay"
1. Molotov y Dub Pistols: Here Comes the Mayo
2. Plastilina Mosh / Tonino Carotone: La Sirentia
3. Eagle-Eye Cherry: To Love Somebody
4. Señor Coconut: Showroom Dummies
5. Café Tacuba / Alejandro Flores: Insomnio
6. Natalie Imbruglia: Cold Air
7. Bryan Van 3000: Go Shopping
8. Flaco Jiménez: La Tumba Será el Final performed
9. Titán / María Rodríguez: Afila el Colmillo
10. Miho Hatori / Smokey Hormel: Ocean in Your Eyes
11. La Revolución De Emiliano Zapata: Nasty Sex
12. Brian Eno: By This River
13. Antonio Solís, Marco: Si No Te Hubieras Ido
14. Frank Zappa: Watermelon in Easter Hay (Joe's Garage version)
The soundtrack to the record-breaking Mexican movie. The two releases listed have different covers - perhaps they're from different countries?
Tipper: Charles Ulrich
Absolute Rock Ballads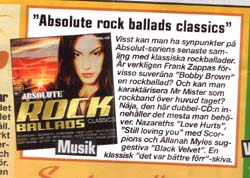 Unique material: none
Zappa material: "Bobby Brown"
1. Queen: We Are the Champions
2. Nazareth: Love Hurts
3. Scorpions: Still Loving You
4. David Bowie: Space Oddity
5. Foreigner: I Wanna Know What Love Is
6. Ugly Kid Joe: Cats in the Cradle
7. Billy Idol: Eyes Without a Face
8. Europe: Carrie
9. Poision: Every Rose Has Its Thorne
10. Faith No More: Easy
11. Heart: Alone
12. REO Speedwagon: Keep on Loving YOu
13. Mr Big: To Be with You
14. Slade: My Oh My
15. Cars: Drive
16. Roxy Music: Jealous Guy
17. I'd Do Anything for Love (But I Won't Do That)

18. Frank Zappa: Bobby Brown
19. ZZ Top: Rough Boy
20. Deep Purple: Child in Time
21. Gary Moore: Emtpy Rooms
22. Whitesnake: Is This Love?
23. Alice Cooper: Only Women Bleed
24. Roxette: Listen to Your Heart
25. White Lion: When the Children Cry
26. Manic Street Preachers: If You Tolerate This, Your Children Will Be Next
27. Alannah Myles: Black Velvet
28. Skid Row: I Remember You
29. Mötley Crüe: Home Sweet Home ('91 Remix)
30. Alien: Only One Woman
31. Starship: Sara
32. Pretenders: I'll Stand By You
33. Mr Mister: Broken Wings
34. Lynyrd Skynyrd: Sweet Home Alabama
The good, the bad, and the ugly! There is a series of "Absolute" compilations in Sweden: Absolute Opera, Absolute Reggae, etc. This has to be one of the least, er, artistically successful compilation jobs :)
Captain Beefheart & the Magic Band: The Dust Blows Forward (an Anthology)
This is not a various-artists compilation; it's a Captain Beefheart compilation with two tracks from Bongo Fury.
Unique Zappa material: none
Zappa material: from Bongo Fury
1. Diddy Wah Diddy
2. Frying Pan
3. Electricity
4. Abba Zaba
5. Beatle Bones & Smokin' Stones
6. Safe as Milk
7. Moonlight on Vermont
8. Ella Guru
9. Old Fart at Play
10. Sugar & Spikes
11. Orange Claw Hammer
12. My Human Gets Me Blues
13. China Pig
14. Lick My Decals Off, Baby
15. Woe-Is-Uh-Me-Bop
16. I Wanna Find a Woman That'll Hold My Big Toe Till I Have to Go
12. The Smithsonian Institute Blues (or the Big Dig)
13. I'm Gonna Booglarize You, Baby
14. Click Clack
15. Grow Fins
16. When It Blows Its Stacks
17. Little Scratch
18. Big Eyed Beans From Venus
19. Golden Birdies

20. Nowadays a Woman's Gotta Hit a Man
21. Low Yo Yo Stuff
22. Too Much Time
23. My Head Is My Only House Unless It Rains
24. Clear Spot
25. Upon the My-O-My
26. Party Of Special Things To Do
27. Zappa/Beefheart/Mothers: Sam With the Showing Scalp Flat Top
28. Zappa/Beefheart/Mothers: Debra Kadabra [Zappa]
29. Hard Workin' Man (Main Title Theme from the Film BLUE COLLAR)
30. Bat Chain Puller
31. The Floppy Boot Stomp
32. Tropical Hot Dog Night
33. Owed t' Alex
34. Hot Head
35. Ashtray Heart
36. Sue Egypt
37. Making Love to a Vampire with a Monkey on My Knee
38. Ice Cream for Crow
39. The Past Sure Is Tense
40. Light Reflected Off the Oceands of the Moon
Steve Vai: The Secret Jewel Box (10-CD Box)
Limited edition: 10000 copies
Unique Zappa material: none
This is a box set Steve Vai put together - kind of a big Mystery Disc for Vai fans - and the third disc is called Archives Volume 2 - Original Recordings of Frank Zappa (Light Without Heat Records LWH 1001-2). All from official Zappa releases. The track list, according to Rick Black:
1. Tell Me You Love Me
2. Theme From the 3rd Movement of Sinister Footwear
3. Jumbo, Go Away
4. Drowning Witch
5. Envelopes
6. Teen-Age Prostitute
7. The Jazz Discharge Party Hats
8. Ya Hozna
9. Alien Orifice
10. Approximate
11. I'm A Beautiful Guy
12. Beauty Knows No Pain
13. What's New In Baltimore
14. Moggio
15. RDNZL
16. Magic Fingers
17. Strictly Genteel
Track 1 is from Tinsel-Town Rebellion; tracks 2-3 & 11-12 from You Are What You Is; track 4-6 from Ship Arriving Too Late to Save a Drowning Witch; track 7 from The Man from Utopia; track 8 from Them Or Us; tracks 9 & 13 from Frank Zappa Meets the Mothers of Prevention; track 10 from Stage #4; tracks 14-15 from Stage #5; and tracks 16-17 from Stage #6.
Only the first three CDs were released in 2001. The idea is that the next seven will be released later. There will be no Zappa recordings on these discs and future developments will not be followed here.
Additional Informants