June 9th, 2010 • Barry's Imaginary Publisher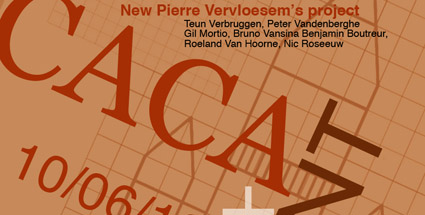 Pierre Vervloesem (previously) writes:
I have recorded and mixed a CACA cd, i don't know when it's gonna be released and on wich label etc… simply because that doesn't interest me at all. I "compose", play the guitar, planned one (1) rehearsal, record and mix, other than that i just don't feel it's my business, i could be perfectely happy doing cd's just for 2,3 friends and play gigs at their anniversary.
Somebody convince this man he needs to get his music outthere!
Luckily the band does have a website where you can listen to three of their tunes – "ZGROL" for one, is quite a delightful Zappaesque treat.