Zappa at Knebworth Press Release
The 1978 Knebworth Frank Zappa commemorative set has been produced in a limited edition of only 200 and includes the following: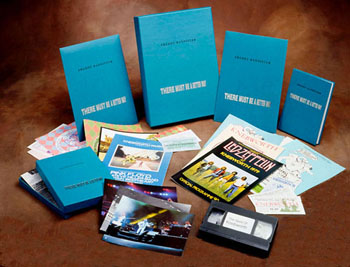 Programmes, flyers and the ticket from 1978 Frank Zappa Knebworth festival
An original 1978 Frank Zappa Knebworth pass, with a letter of authenticity
12 photos of the 1978 Knebworth festival
330 page book on the behind the scenes hassles of promoting the Knebworth festival and also working as Frank Zappa's European representative in the seventies, including his ill-fated 1971 tour.
And a special gift with the set four CDs and a DVD live from Knebworth

The four CDs include:
1978 Knebworth Frank Zappa 1CD 1975 Knebworth Captain Beefheart 1CD 1978 Knebworth The Tubes 1CD 1978 Knebworth Peter Gabriel ! CD

A 50 mins DVD of various Knebworth festivals between 1974 – 1979, including The Rolling Stones, Lynyrd Skynyrd, Led Zeppelin and Genesis.

All enclosed in the same very attractive turquoise and silver presentation box as pictured above.

For further information please email info@rockmusicmemorabilia.com

WHAT THE OTHER REVIEWERS SAID

A limited edition that should grow in value with the years, it demands your urgent attention.
Mick Wall Editor - Classic Rock.


Linda Raeburn for Stones fanzine It's Only Rock 'n'Roll.

The whole package will appeal to fans and collectors alike, awakening their remembrance of past times, the photographs and memorabilia particularly gratifying. The faithfully reproduced programmes act as an aide-memoir to the famous bands that played each year- Rolling Stones, Pink Floyd and Led Zeppelin. Beautifully presented, desirable and highly recommended.