Central-European Page
Hi! This is a page in Central-European encoding to display the correct diacritics on various Zappa items from central Europe. This will certainly not display correctly on all browsers, but if you're interested in reading Central-European languanges you will have a browser equipped with Central-European language support, and if you do, it should work fine. In Microsoft Internet Explorer, the encoding to select is called Central European Alphabet (Windows) - under Language, in the View menu. In order to maximise the chances of this page to actually work, I've stripped it of all font formatting - it probably looks ugly, but information is not knowledge which is not wisdom which is not truth which is not beauty. And this is the Zappa Patio, giving you detailed information :)
Roumanian on LIVE IN EUROPA
The bootleg Live in Europa has some Roumanian writing on the back cover:
DISC DOCUMENT
LicenĘă BLACK PANTHER
Redactor muzical: Romeo Vanica
Postprocesare: Emil Mihai
Transpunere: Ion FrăĘilă
Tiparul: Electrecord
Informant: "U"
Czech on a Supraphon Cassette
A 1976 Supraphon cassette from Czechoslovakia has plenty of Czech writing on it.
Vybral a sestavil Petr Dorùžka
1 Inca Roads (Silnice Inkù)
2 Can't Afford No Shoes (Nemùžu si dovolit boty)
3 Po-Jama People (Lidé Po-Jama)
4 Evelyn, a Modified Dog (Evelyn, modifikovanę pes)
5 San Ber'dino
6 Andy
7 Sofa No. 2 (Pohovka è. 2)

8 Peaches en Regalia (Broskve po královsku)
9 Willie the Pimp (Pasáèek Willie)
10 Little Umbrellas (Deštníèky)
11 Gumbo Variations (Variace na Gumbo)

Hudbu složil a zpívá
F R A N K Z A P P A

/Nahrávky Warner Bros. Records, Inc., v licenci WEA/
Informant: István Fekete, Hungary (his first Zappa tape!)
Polish on a "Son of Suzy Creamcheese" Postcard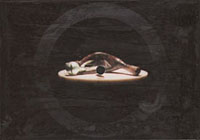 This is the Polish print on the back of a playable flexi-disc postcard with "Son of Suzy Creamcheese". It describes the object of art depicted on the card.
Avatar IIIAg
(reconstruction)
SKŁAD / COMPOSITION:
Ag - 93,5%
Cu - 6,5%
WYMIARY / DIMENSIONS:
240/52/52 mm
WAGA / WEIGHT:
Ca 550 g
WEAŒCIWOŒCI / PROPERTIES:
antyseptyczne
antiseptic
ZASTOSOWANIE / APPLICATIONS:
dla trójpalczastej isoty wyszej
for three fingered superior beings
DZIAŁANIE / EFFECTS:
uĘatwia pomoc zagro+onym istotom
facilitates help for endangered beings
które w tym +yciu otrzymaĘy
who in this life received
niekorzystne tymczasowe ciaĘo owada
unvafourable temporary body of an insect
WSKAZANIA / USES:
do przenoszenia
for carrying of
krnĘbrnych
insubordinate
drobnych
tiny
+ywych
living
ruchomych
moving
czujĘcych istot
feeling beings
DZIAŁANIA UBOCZNE / SIDE EFFECTS:
mo+líwoœæ ska+enía cechami materialnymi
possibility of contamination with material feature