Zappa's Universe - Part I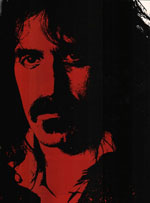 On the fifth anniversary of the demise of Frank Zappa guitarists Steve Vai and Mike Keneally pay heartfelt tribute to the memory of their friend, mentor and boss. "When I was in Frank Zappa's band in the early Eighties, there was nothing but challenge," says guitar virtuoso Steve Vai. "I made sure my rent was paid, and the rest of my time was devoted to mastering his music—that was it."
Vai pauses for a moment, lost in his memories, and then smiles. "It was a blissful period."
Mike Keneally, who served as Zappa's resident "stunt guitarist" for two years in the late Eighties, concurs: "If you had the proper mindset, it was a thrill to show up at rehearsal and be presented with these challenges. Every time you overcame a difficult musical passage, you were happy you'd been able to rise to it, and you were happy because you made Frank happy."
It's been five years since Frank Zappa, at the all-too-young age of 52, succumbed to prostate cancer. His memory and music, however, still live on in the hearts of the rabid fans who continue to invest in his enormous back catalog of over 80 albums, and certainly in the minds of the numerous musicians who played with him over the years.
While Zappa's brilliantly quirky music defies easy categorization, one thing can be said: he was a ruthlessly exacting bandleader who expected nothing less than excellence from the musicians who performed his demanding compositions. Those who played in any of Zappa's many groups always found it to be an earth-shattering, life-altering experience. "Many times, I would leave Frank's house with a feeling of elation," says Vai. "I can't remember feeling that way for anyone else at any other time in my life. You always felt like you were in the presence of greatness when you were around Frank. And if you had any desire to better yourself as a musician, or seize the opportunity to rise to your potential, Frank brought it out in you." In recognition of the fifth anniversary of Zappa's death,
Guitar World
asked Vai and Keneally to remember what it was like to work with the late rock genius. Vai, whose
Passion and Warfare
(1990) is one of the most successful instrumental rock albums of this decade, served as a member of Zappa's band from 1980 through 1982. During that time he established a new technical standard for rock guitarists. Credited with playing "impossible guitar parts" on such compositions as "Alien Orifice," "Moggio" and "Theme from the Third Movement of Sinister Footwear," Vai was often called upon to perform incredibly difficult musical passages written for keyboard, wind instruments or percussion, and perform them flawlessly—often while dancing. His unique contributions to Frank's band can be heard on
Tinsel Town Rebellion
(1981),
You Are What You Is
(1981) and
Ship Arriving Too Late to Save a Drowning Witch
(1982), among others. Many of the guitarist's performances with Zappa will be available in a 10-CD box set of Vai's work that will be issued later this year. Schooled as a keyboard player but equeally adept at the guitar, Mike Keneally was part of Zappa's last touring ensemble, from 1987 to 1988. Deeply influenced by Vai's work with Frank, Keneally made his name by simply following his predecessor's approach: playing preposterously difficult guitar parts perfectly. He can be heard on the live albums
Broadway the Hard Way
(1988),
The Best Band You Never Heard in Your Life
(1991) and
Make a Jazz Noise Here
(1991).
Like Vai, Keneally continues to record and perform. He fronts his own group, Beer for Dolphins, whose latest release,
Sluggo
, is on the immune label.
G W
Steve, when did you first become acquainted with Frank Zappa's music?
Steve Vai
I was introduced to his music through a high-school friend. He played me "Muffin Man," from
Bongo Fury
(Rykodisc, 1975), and it was like an epiphany! The song contained a lot of different musical elements that I loved, all rolled into one song: crazy, wacky guitar playing with cool notes all over the place, and it managed to be arranged and well-thought-out, yet improvisational, too. It also had comedy, which was so rare. It was so different, and that's when I really got into Frank.
Shortly afterwards, I went to [Boston's] Berklee School of Music, and they had a very extensive music library which included all of Frank's records. I mean everytqhing, I would sit in the library and listen to his music all day long.
I felt that I'd found something that I could really relate to. As an adolescent, I think one can often feel alone and misunderstood... Like there's no one more out-thee than thou. [laughs] And when you find something that you can latch on to, it's like a revelation.
Mike Keneally
It's very validating to find someone whose music gives you the feeling that they are speaking directly to you. And as you go through life, you find more people who feel the same way you do, and you find a community there.
In addition, there was the art itself, and how diverse it was from album to album. TQhere was so much to discover in Frank's music, like the secret clues in the lyrics and in the melodies that forged connections between specific albums. In the beginning, it felt like being part of a secret club.
G W
Mike, what was your introduction to Frank Zappa?
Mike Keneally
My first exposure to him was just his image, which was enough to make a huge impression on me. When I was eight years old, I used to go to his tiny record store; the entire store was like a hallway, and the posters were at the far end. They had the Frank-Zappa-on-the-toilet poster, but it wasn't the standard-issue one. He looked especially mean and grimy. I would go back there and gingerly flip through the posters until I got to that one, and I'd stare at it, thinking, "I'm scared by this, but I'm really intrigued by it, too."
Not long after that, the Mothers of Invention with Flo and Eddie [Mark Volman and Howard Kayloan of the Turtles] were on
The Dick Cavett Show
, and that was the first time I heard their music. It was in 1971 and Frank was promoting the
200 Motels
movie. They played "Sofa No. 1," which is a waltz, and though they all looked so weird and scary, they played this song that was so beautiful. At the grand old age of nine, I was really struck by the dichotomy of these freaks playing this really gorgeous music.
G W
You were a fairly serious keyboard player at this point, right?
Mike Keneally
I was taking lessons, and I was being groomed as a pop organist; I already had an appointment to get a pair of white shoes! Right around the same time, this guy across the street played me "Help, I'm a Rock" from
Freak Out!
(Rykodisc, 1966), and I fell in love!
Steve Vai
Freak Out!
was one of the first records I ever owned! My first record was
Yogi Bear and Friends
[laughs], the second was a
Partridge Family
picture disc, and the third was
Freak Out!
G W
Is it true that you once transcribed Frank's entire "Inca Roads" solo from
One Size Fits All
(Rykodisc, 1975), strictly from memory—while riding on a bus?
Steve Vai
Yes, it's true. I doubt I got it exactly right, but that solo was something that I really, really loved. The
One Size Fits All
album was very important to me, and I loved that song in particular. It said in the credits that the main part of the tune was recorded in a Los Angeles TV studio, and the solo was taken from a concert in Helsinki, Finland. I could hear where the edit was, and I thought, "Wow, this is incredible." The wa y he'd combined those two elements was one of the coolest things I'd ever heard.
G W
How did you first get the opportunity to play with Frank?
Steve Vai
While I was at Berklee, the big thing at school was, Who can play Zappa's "The Black Page" [Zappa in New York, Rykodisc, 1978]? A couple of years earlier, when I was 15, I had gotten Frank's phone number from a friend of mine, and I called Frank once a year—I didn't want to overdo it—but I never got a hold of him. But I did speak to Gail, his wife, who was always very nice.
One day I called him from Berklee, and he picked up the phone! I knew that he was looking for some of Edgare Varése's [the modern composer whose music employed dissonance and unusual instrumentiation—G WEd.] scores that were hard to find. The Boston public library had them, so I said that I would Xerox them and send them to him.
I also told him that I played the guitar, and he said to send him a tape. The thought of sending him a tape seemed crazy, because I felt that I would never have the ability to play with him—it seemed completely out of my reach. But I sent him a tape and he really liked it! I also sent my transcription of "The Black Page" and the Varése scores, and he sent me back a copy of his chart for "The Black Page", plus this huge score for a piece of his called "Mo and Herb's Vacation [London Symphony Orchestra Vol. I & II (FZ/Rykodisc, 1995)], which eventually turned into "The Second Movement of the Theme from Sinister Footwear" [You Are What You Is (Rykodisc, 1981)].
I couldn't believe it—here I was, this kid in Berklee, and I get a package filled with all this stuff from Frank, including a handwritten note that said, "Send me a tape of you playing 'The Black Page' as fast as you possibly can." So you can imagine what I did every day for the next month! [laughs]
G W
Was Frank impressed with your transcription of "The Black Page"?
Steve Vai
Yes. He offered me a ton of transcription work on the basis of what I'd done with "The Black Page". He said, "How would you like to do this for money?" and I said, "Great." That's when I started doing all of the transcriptions for
The Frank Zappa Guitar Book
.
The first time I ever met him in person was at the Hyatt Regency in New York City, and I was scared to death! We sat and talked a little bit, and he showed me a score of his. He said, "This is an early print, so there may be some errors," and I immediately picked up on some of the mistakes, like too many beams on some of the notes. I also noticed that, in a part written for clarinet, there were notes below the clarinet's range, and I pointed this out.
G W
That's a pretty good observation!
Steve Vai
He just looked at me and went "Umm...
yeah
". And that's when he asked me to transcribe some of his music. He gave me these two cassettes filled with wild guitar playing, some of which was released on the
Shut Up 'N Play Yer Guitar
records, and some of which has never been released. And the more I transcribed, the more he piled the stuff on. At the time, I was getting paid $10 a page, and it would take me three days to do one page!
And then—I'll never forget this—Frank did an interview with a San Fransisco magazine and he just went off about me. I had never ever seen my name in print before, and here was Frank Zappa saying "There's this kid who's really great, and you should watch for him, because he's going to turn into something."
Mike Keneally
Just to demonstrate the power of that interview, I read the same thing in that very newspaper about this kid Steve Vai, who wasn't even in the band yet. All Frank had to do was mention a name in an interview, and it was instantly entered into
legend
. I sat there in my room, at 15, thinking, "Jeez—this Steve Vai guy must be a monster!"
Steve Vai
Hey, I was thinking the same thing! [laughs] I thought, "Where is he getting this from?"
I called Frank after I'd sent him the tape of me playing "The Black Page," and he was so moody. He said, "You played it too fast, which is typical of a Berklee guy, where faster is better." I guess he was in a bad mood, and I was thinking "What's going on?" [laughs]
Mike Keneally
This is after he asked you to play it as fast as you could?
Steve Vai
Yeah. But then he asked me to come out to Los Angeles to audition for the group. When I said I was only 18, he said, "Forget it, you're too young." I said, "But I'd really like to try." He said, "What makes you think that you wouldn't join my band and become a miserable son of a bitch because of the music?" [laughs] And I said, "Because I have every one of your records and I like
every song
."
Continue reading »